The Minister for Sanitation and Water Resources, Cecilia Abena Dapaah, has urged food vendors in the country to observe proper hand hygiene  as they render services to their customers.
Speaking during the national Global Hand Washing Day (GHD) celebrations at the Kejetia Market in Kumasi on October 15, Hon. Dapaah said food vendors would be passing on germs to their customers if they did not keep their hands clean and hygienic at all times.
"If you sell cooked food, fruits, vegetables and pastries, you need to wash your hands properly with soap under running water, otherwise the food you serve to your customers could be contaminated and cause disease infections in your customers," Dapaah pointed out.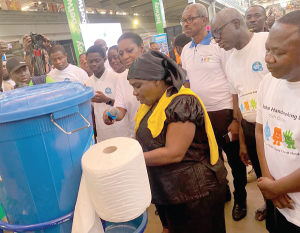 Leadership is by example, as Hon. Cecilia Dapaah demonstrates proper handwashing to traders at the Kejetia Market in Kumasi during the 2022 Global Handwashing Day.
She said as traders handle money, other objects, while handling food items, it was important to wash their hands before touching edibles.
"And when you visit the washroom, wash your hands thoroughly with soap under clean running water before rendering your services to avoid passing on infections to those who buy from you to eat," she added.
This year's GHD was on the theme: "Unite for Universal Hand Hygiene."
"Research has shown that if we invest into, and ensure the practice of proper handwashing, we could protect at least one million lives annually from infectious diseases such as cholera, dysentery, COVID-19,  typhoid and other diarrheal diseases," Hon. Dapaah stated.
Moreover, the minister added that handwashing with soap under running water had multiple benefits, "including improved wellbeing, dignity, educational fulfillment, and productivity."
She urged the national handwashing campaign teams to focus the campaign on ensuring access to basic handwashing facilities in communities, business premises, schools, healthcare facilities, and other workplaces.
"People are likely to wash their hands if they have soap and water available in the handwashing facility," the minister intimated, urging households and institutions to make these facilities available in their premises, and maintain them to be attractive for use," Dapaah added.
Dapaah stated that since hands were major carriers of disease-causing pathogens from person to person, through direct and indirect contact, handwashing with soap under running water would remove these gems from the ands.
"I appeal to the general public to make handwashing with soap under clean running water part of their daily activities," she urged.
Hon. Dapaah donated 10 handwashing kits to the Kejetia Market Traders Association to enhance the practice among the traders.
Patricia Acheampong, leader of the Kejetia female traders association, lauded the national handwashing team for the critical sensitization given business operators in the market.
"We shall carry on with the educational campaign and the practice of proper handwashing for better health and dignity," pledged the market queen.
The national celebration was organized by the Community Water and Sanitation Agency, with support from the Church of Christ, UNICEF and the Greater Kumasi Metropolitan Area (GKMA) Sanitation and Water Project (SWP).
Ghana and other countries promoted vigorously, and invested in handwashing with soap under running water as one of the preventive measures during the outbreak of COVID-19 in 2020.