The Sanitation Officer of the Tarkwa-Nsuaem Municipal Assembly, Michael Kojo Johnson has urged Ghanaians to make hand washing their way of life even after the new coronavirus  pandemic is over.
He said it was important to maintain hand washing practices to prevent the spread of infectious diseases among humans.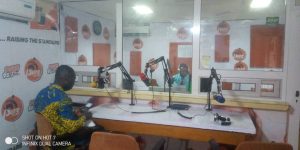 Michael Kojo Johnson in the studios of Pure FM
Speaking on the Watershed community radio programme on Pure FM in Tarkwa recently, the official pointed out the critical role of hand washing in the fight against the spread of the COVID-19 pandemic.
"The outbreak of the virus has changed the attitude of most Ghanaians especially those in Tarkwa with regard to hand washing practices," he observed.
Johnson added that the outbreak of the pandemic had also complemented the watershed campaign for sustainable water and sanitation services in the municipality, commending the government for the free water supply initiative.
To ensure the success of the government's free water supply, the assembly also took steps to repair all the broken-down boreholes within the municipality.
"This has helped to make water available to the people to boost and encourage hand washing," Johnson added.
To sustain water delivery however, the official called on the communities in mining areas to report illegal mining (Galamsey) operators and other activities that pollute natural water bodies.  END
Source: Matthew Dadzie, Takoradi.