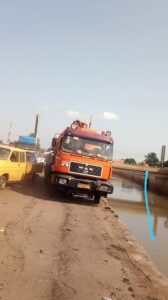 The Sanitation and Motor Court in La convicted a driver of a waste management company, of pollution Tuesday.
The court found Nuru Musah, driver of a cesspit emptier truck, guilty for dislodging faecal sludge into the Odaw River.
The court imposed a fine of GHc2,400 on Musah, an employee of A & D Waste Company, or in default go to prison for 6 months.
At the close of day, the accused person could not pay the fine and was subsequently admitted to the Nsawam Medium Security Prison to serve the six-month jail term.
The offender was seen over the weekend openly discharging untreated liquid waste from his truck into the Odow river.
A good Samaritan alerted officials of the Metro Public Health Department (MPHD) of Accra Metropolitan Assembly (AMA) and a complaint was lodged at the Kaneshie Police Station.
On Monday, November, 1, 2021, officers from the MPHD led by Joseph Asitanga and Ishmael Tagoe  got the owner of the company arrested, and he led the officials to arrest the offending driver.
Meanwhile, the Metro Public Health Director, Madam Florence Kuukyi appealed to the public to report such irresponsible behaviour to the authorities. She, further, cautioned the public to desist from engaging in such act.
"We want the public to know that whatever goes around comes around. We have our eyes planted everywhere within the metropolis and we shall fish out all those dumping waste indiscriminately in the city center which is likely to lead outbreaks of diseases." She emphasised.
Story: Franklin ASARE-DONKOH